DIABOLUS IN MUSICA
Professor Adrian North, who led a psychological study of Heriot-Watt University, addressed 36,000 music fans from all over the world to identify and describe their personalities. Unexpectedly, one of the outcomes that crystallized out of the study was the finding that classical aficionados share virtually identical personality traits with heavy metal fans.
From metal riffs to symphonies
'Apart from the age differences, both groups were virtually identical,' professor North says.
'Both were more creative than other people, both were not terribly outgoing and they were also quite at ease.'
´It's as though the fans are choosing the music to tell the world something about themselves´, says professor North. It is not surprising therefore, that jazz lovers exhibit in general different type of personalities than fans of easy listening and chart pop that ended up as the least creative people in the test panel.
Like classical lovers, metal fans verge on the obsessive about their music. They have divided the genre into ever smaller sub-groups (like thrash metal, death metal, prog-metal, black metal, nu-metal, symphonic metal and many others) and together with classical fans they share a common sense for theatric performances – though the Tschaikovski's Swan Lake is a bit different visual feast than a Slipknot's live show.
The most iInteresting thing is that it is far easier to transcend from pure metal stuff to pure classical stuff for a metal devotee than he or she can imagine. Opposite it does not really works. Here´s why.
March to The Scaffold

First of all, I need to make one thing absolute clear: by the ´classical stuff´ I do not mean anything like Apocalyptica Plays Metallica by Four Cellos, Nightwish´s Imaginaerum or whatever appears categorized as ´symphonic metal´. Neither do I mean anything like your-favorite-metal-band accompanied by an orchestra, like Metallica's S&M with the San Francisco Symphony Orchestra. Neither do I mean anything like rearrangements of the metal tunes by different orchestras like Royal Philharmonic Orchestra's Plays The Rush or The London Symphony Orchestra plays the music of Jethro Tull. Those are only cross-genre adventures and experiments that are just commercionally attractive but have no deeper meaning.
I was raised on heavy metal. I started in 80's with the bands like Iron Maiden, AC/DC, American Bay Area thrash, German bands or the new wave of British heavy metal led by Judas Priest. Whatever from earlier years was considered too soft, with Black Sabbath yet acceptable. I still own a vast collection of compact cassettes and CDs of albums from between 1980 and today. For me, downgrade from metal to anything else was impossible, yet it happened. But not through some transitional genres – I jumped directly from the heaviest assaults into classical romanticism - and I have not missed anything I liked with the metal: there has been elements like thundering crescendos, sonic walls, drama and the sense of scale, or, if you prefer, fields of melancholy, depression and destruction.
Apart from jazz, heavy metal is probably the only other musical discipline that fetishises technical virtuosity as much as classical music – it is quite easy to spot virtuoso parallels between the best guitarists like Yngwie Malmsteen and their classicaly trained counterparts like Paganini.
The classical composers weave their music with tempos, timbres, dynamics and visual portrayal of events. The metal groups do basically the same yet around different topics – but not always different - see the examples of Symphonie Fantastique of Hector Berlioz with March to the Scaffold or Dream of the Witches Sabbath, or diabolic Danse Macabre of Saint-Saens, or Mussorgsky's vision of another sabbath in Night on A Bare Mountain, or Respighi's bloodshed in Ballad of The Gnomes. From the perspective of topics both genres share more than any other genres, the metal bands portraying them at ear-splitting amplitude, however.
Photo: One of the most gifted violinist of our times, Janine Jansen

Photo: charismatic Italian basbarytonist, Ildebrando D´Arcangelo, a famous interpreter of Mozart.
The Age Paradox
There is another interesting development to notice: the real metal masters are growing old. The members of band like Metallica, Slayer, Judas Priest or AC/DC are now in their 60's. Many of them are not with us anymore. The new metal bands appear and dissapear in temporary fashion and only few of them are really memorable. With the former the fan base grows old too, with the latter the fan base lacks loyalty and tend to switch, partly due to interchangeability of the current music where pop uses riffs and shocking images and metal uses operatic voices and keyboards.
Photo: Russian-Austrian diva Anna Netrebko, "The Beauty"as she is nicknamed by fans.
The classical music does not suffer from that. New generations are attracted to it at a certain moment of life. Whereas the rock stadiums are half-empty, the best concert halls are sold out. The concerts of Vienna Philharmonic are booked for many months in advance and average waiting time for a subscription is around 13 years!
Classical music does not attract the new crowds through new compositions and albums like rock music - it relies very much on the repertoire from the previous centuries. However, it shed the chains of obsoletism and managed to revitalize through young blood, be it conductors or performers. For example, never in the past has feminine touch been so strong in classical music.
Photo: "A phenomenon in coloratura", critics rave about Russian sopranist Olga Peretjatko.
Where to start?
For anyone, the Fortissimo: Worlds Loudest Classical Music RCA sampler is among the most popular CDs to start with. It collects bombastic pieces from Strauss, Wagner, Mussorgsky, Orff and many others. The problem is that it focuses primarily on the loud passages and that can get easily boring over the time and that the recording quality is not good. If you would like to start your own collection of classical music that would initiate you into the infinite universe of the symphonic music and do not want to miss the abrasiveness and effect of your metal collection, then I recommend to give a try to any of the listed releases. On top of the shivers that will be send down to your spine these releases exhibit superb artistic and in most cases also sonic qualities.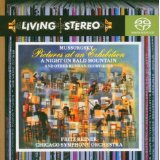 Mussorgsky , A Night on Bald Mountain
Fritz Reiner, Chicago Symphony Orchestra, 1957/59, RCA Living Stereo
No doubt that the flashing tapestry of Mussorgsky´s depiction of savage rituals happening on the bald (or bare) mountain belongs to the top of this list. Ghostly sequences. Grisly cries of demons. A fast orchestral rollercoaster with Berserking tempos and malevolent drums . Ominous flashes of the black mass. A Night on Bald Mountain is a very narrative and intensive piece of music.
The disc also contains Tchaikovsky´s Marche Slave and Borodin´s Polovtsian March that opens the 3rd act of Prince Igor. None of these should be missed too!
Key words: fast tempos, riff-like structures, catchy, narrative, hard-hitting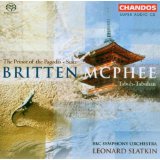 Colin McPhee, Tabuh-Tabuhan
Leonard Slatkin, BBC Symphony Orchestra, Chandos, CHSA 5017
Tabuh-Tabuhan is subtitled Toccata for Orchestra and Two Pianos. At its core moments, this composition can be very disharmonic, polyrhythmic and highly disturbing. The introduction to Finale was prescribed by McPhee as quieto e misterioso – and, oh my, this movement could be at home at any horror slasher – the dense atmosphere builds dramatic tension in the same vein John Carpenter did with his Halloween soundtrack. It is a weird and unsettling experience.
The disc also features Benjamin Britten's ballet suite The Prince of Pagodas, Op.57, which adds another polyrhytmic tribal drumming in the King of The South variation, the whole symphonic orchestra staccato in the lively Male and Female Flames or grandiose fanfares in the climactic Apotheosis.
Key words: atmospheric, ominous, polyrhythmic, lively
Joaquin Turina, Danzas Fantásticas, Op.22
Jesús López-Cobos, Cincinnati Symphony Orchestra, Telarc, SACD-60574
The Fantastic Dances comprises three movements – Exaltación opens with an atmospheric veil of strings that sways into the main dance theme, Ensueno is built upon a tantalizing ambiguous rhythmic orchestral sound that imposes certain melancholy, and the closing Orgía, that is a fiery rhythmic stomp that takes no prisoners.
Key words: rhytmic, danceable, fiery, exotic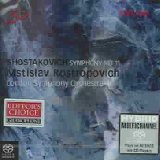 Dmitri Shostakovich, Symphony No.11, The Year 1905
Mstislav Rostropovich, London Symphony Orchestra, LSO Live, SACD LSO 0535
In his Eleventh Shostakovich unleashes the full forces of the orchestra, depicting the events of Bloody Sunday during the first Russian revolution. With soldiers attacking the Winter Palace, the symphony's 2nd movement Allegro represents all the drama Shostakovich is capable of. Fear inducing machine-gun-like drums sequences and a threatening fugato in strings lead into sonic mayhem at its best. Very complex piece with huge dynamic sweeps, natural acoustics and rich color pallets, recorded live by Mstislav Rostropovich and the London Symphony Orchestra at Barbican Center.
Shostakovich's music in general is very visual and cinematic and offers a lot of drama - the opening movement of Symphony No.7, and the two fast movements of his Symphony No.8 are also recommended to your attention.
Key words: narrative, militant, brooding, bombastic, dynamic
Igor Stravinsky, Le sacre du printemps (Rite of Spring)
Esa-Pekka Salonen, Los Angeles Philharmonic, Deutsche Grammophon, 00289 4776198
Stravinsky's ballet piece Le Sacre du Printemps was for the first time performed in May 1913 in Paris and ended up with a total fiasco. People in the auditorium expressed their disapproval by whistling and rumbling so loudly that the theatre had to switch off the lights to calm the crowd down. One may speculate that the reason was too avant-garde choreography, the other may say that the musical content - a pagan ritual of elders, seated in a circle, who make a young girl dance to her death as a sacrifice to gods of spring - was way too much unusual. Only today we can appreciate rich and colorful orchestration with the leitmotif of ritualistic drums thudding through the composition. A big Russian drama with French charm – or the opposite?
Key words: mystic, atmospheric, threatening, rhythmic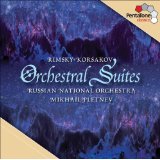 Nikolai Rimsky-Korsakov, The Legend of the Invisible City of Kitesh
Mikhail Pletnev, Russian National Orchestra, Pentatone, PTC 5186 362
The suite The Legend of the Invisible City of Kitesh is a wonderful example of visual poetry in music that is so characteristic for Russian composers. The prologue starts very mystically but gradually develops into the tempest of brass and rhythmical aggression. The string attacks in the Battle of Kershenets are as memorable as any good heavy metal riffing.
The same disc contains 3rd act of the ballet opera Mlada, titled Nuit sur le Mont Triglav with infernal witches´sabbat depiction that has dramatic power of any today´s Hollywood soundtrack.
Key words: fast tempos, riff-like structures, catchy, narrative, visual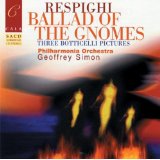 Ottorino Respighi, Ballad of The Gnomes
Geoffrey Simon, Philharmonia Orchestra, Cala Records, CACD4028
The symphonic poem Ballad of the Gnomes was inspired by Italian poet Carlo Clausetti. The story is very dark and full of violence: female gnomes/demons snatch a male in the middle of the night and submit him to grisly sexual rituals and abuse. As day breaks, the warm and blood-stained corpse of the man is being dragged to a cliff and thrown to the sea which is a signal for a wild and hypnotically rhythmic dance.
Key words: catchy, narrative, atmospheric, climactic, rhytmic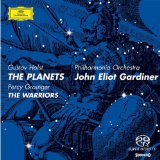 Gustav Holst, The Planets, Op.32
John Elliot Gardiner, Philharmonia Orchestra, Deutsche Grammophon, SACD 471 634-2
Holst's Planets conducted by John Elliot Gardiner are an ideal piece of classical music for all those who hate classical compositions. Just close your eyes and imagine a dozen of interstellar fighters approaching menacingly the fortification of space pirates. The grand scene that is to follow could be easily underscored by Holstian Mars, The Bringer of War.
The disc also contains Percy Grainger's The Warriors 18-minute suite, that was described by the author as ghosts of male and female warriors, spirited together for an orgy of war-like dances, processions, and merry-makings. The orchestrations are large and diverse and above all very dynamic.
Key words: grand, poetic, threatening, fiery, atmospheric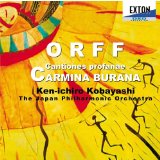 Carl Orff, Carmina Burana
Ken Ichiro-Kobayashi, The Japan Philharmonic Orchestra, Exton, OVCL 00123
Carmina Burana is a scenic cantata that is based on medieval poems. The first and last movements, Fortuna Imperatrix Mundi start with the popular O Fortuna that is frequently used in movies to enhance scale and drama. Orff brilliantly captures the meaning and nature of the Wheel of Fortune. Opening with a pounding timpani and large chorus, the listener is introduced to the Wheel's magnitude, while the haunting melody sitting atop a river of endlessly repeating orchestral accompaniment, mimicks its constant rotation. It is a vocal piece, but a very powerful and monumental vocal piece destined to tear down the walls of your room.
Key words: bombastic, powerful, choral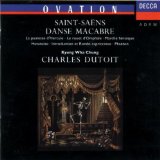 Camille Saint-Saens, Dance Macabre
Charles Dutoit, Philharmonia Orchestra, Decca, 425 021-2
The poem was premiered in 1875 and evoked such a noisy dissaproval from the audience that the composer´s mother fainted away. No surprise if you look closer at the leitmotif: the story of Death playing his fiddle in a wintry churchyard at midnight while skeletons dance to his ghostly tune. The effect is achieved through a slithering waltz on solo violin, later accompanied by the clacking of bones from xylophone, flute, basoon and clarinet. The oboe signals dawn with a cock-crow motif just when the music unleashes in full forte.
Key words: narrative, catchy, dynamic, weird
Other recommended titles:
ALBÉNIZ, ISAAC
Festival Day in Seville
Suite Espagnola, Op. 47
BERLIOZ, HECTOR
Symphonie Fantastique
BORODIN, ALEXANDER
Prince Igor: Overture and Polovtsian Dances
Prince Igor: Polovski March
CHABRIER, EMMANUEL
Danse Slave for Orchestra
España: Rhapsody for Orchestra
DUKAS, PAUL
The Sorcerer's Apprentice
FALLA, MANUEL DE
Nights in the Gardens of Spain for Piano and Orchestra
GRIEG, EDVARD
Peer Gynt: Suites 1 & 2
GRAINGER, PERCY
The Warriors
IBERT, JACQUES
Escales (Ports of Call)
JANÁČEK, LEOŠ
Sinfonietta for Orchestra
Taras Bulba: Rhapsody for Orchestra
KHACHATURIAN, ARAM
Gayne: Ballet Suite
Masquerade: Suite
LIADOV, ANATOLE
Baba Yaga
MAHLER, GUSTAV
Symphony No. 1 in D Major "The Titan"
MUSSORGSKY, MODEST
Pictures at an Exhibition for Orchestra
NIELSEN, CARL
Aladdin Suite
PROKOFIEV, SERGEJ
Cinderella: Ballet, Op. 87
Lieutenant Kijé: Symphonic Suite, Op. 60
The Love for Three Oranges: Suite, Op. 33
RACHMANINOV, SERGEI
The Rock: Fantasy for Orchestra, Op. 7
Symphonic Dances for Orchestra, Op. 45
RABAUD, HENRI
Marouf, Cobbler of Cairo: Dances
RESPIGHI, OTTORINO
Belkis, Queen of Sheba
Fountains of Rome
Pines of Rome
Roman Festivals
RAVEL, MAURICE
Alboranda del Gracioso
Boléro
Rapsodie espagnole
REED, HERBERT OWEN
La Fiesta Mexicana
RIMSKY-KORSAKOV, NIKOLAI
Scheherazade: Symphonic Suite, Op.35
SAINT-SAËNS, CAMILLE
Africa for Piano and Orchestra
The Carnival of the Animals
Danse Macabre, Op. 40
Samson and Delilah: Bacchanale
SHOSTAKOVICH, DMITRI
Symphony No. 1 in F Minor, Op. 10
Symphony No. 5 in D Minor, Op. 47
SIBELIUS, JEAN
Finlandia, Op. 26 No. 7
STRAUSS, RICHARD
Also Sprach Zarathustra, Op. 30
TCHAIKOVSKY, PETER ILYICH
Marche Slave, Op. 31
Overture: 1812, Op. 49
Swan Lake Ballet, Op. 20
Audiodrom © 2013