the world of low and mid-tier loudspeaker cables
We started with the ordinary idea to compare a few speaker cables in the budget segment of the market,that is what we call low-tier cables. Since the very beginning the idea has grown into this quite comprehensive group review of 18 different wires in much more generous price dispersion. Why not 20 wires, you may ask. After more than six months of connecting and disconnecting speaker cables from amps and loudspeakers even a reviewer gets saturated and wants to relax for a while. Therefore we said STOP at a certain moment throughout the review process and took no more cables aboard.
The Union of Snakes
Perhaps you would agree that there are differences between different speaker cables that can be heard and described. Should you do not agree then you will have to wait until your auditioning experience is mature enough to be able to find the nuances in the sound of different wires. The review of cables is a very thin ice as we may easily get to the skin of an experienced violinist who is able to hear the difference between different violinS makes and furthermore, to explain you the impact different bows make on their sound. Some will hear a zero difference, some will hear the real difference, some will get psycho-acoustically biased. We tried to be as unbiased as possible throughout following reviews.
The real goal of this project was not to put individual contenders on a measuring bench and stare at meters to see the differences in resistances, capacitances and inductances. We aimed to audition all the contenders in comparable conditions during quite an extended period of time to find aural descriptors that may characterize a kind of signature that each of the cables had in our systems. I agree that having the measured specifications on hand would be a nice complement to what we heard – even more interesting would be to look for the correlation between the hearing and the measurement. Most specifications are available on the websites of producers; be warned, however, as there is always an impact of different terminations and lengths, so the values are only partly relevant.
The contenders
As mentioned, we started with budget wires to find out whether spending few hundreds more brings some sonic improvement against a cable purchased from your nearest radio store. Well, we had to extend the testing panel as it was obvious from the very beginning that there are differences already at this low level.
The cables were split into two groups: the low-tier one was limited by approximately 400 EUR per set, the mid-tier was limited by 800 EUR per set. By the set I mean a pair of speaker cables between 2 – 3 meters of length. We could not have the same lengths as some of the producers cut by feet, some by meters, depending on the country of origin. In the table herebelow you can see which contenders took the challenge.
GROUP < 400 EUR per pair (EUR/set):
ATOHM ZEF (240,-/2,5m)
AUDIOQUEST Rocket 33 (260,-/2,5m)
NORDOST White Lightning (250,-/2,0m)
NORDOST Purple Flare (350,-/2,0m)
PROSON P-217A (150,-/3,0m)
RAPPORT YPB621B (190,-/3,0m)
SHARKWIRE SSC-R Musical No.2 (130,-/2,5m)
VAN DEN HUL The Magnum Hybrid (360,-/3,0m)
VINCENT Single Wire (260,-/3,0m)
XINDAK SC-01 (80,-/2,5m)
GROUP < 800 EUR per pair (EUR/set):
AUDIOQUEST CV-4 (520,-/2,5m)
BLACK RHODIUM Emperor DCT++ (750,-/3.0m)
FURUTECH Evolution II (680,-/2,0m)
KIMBER KABLE Monocle X (790,-/2,1m)
KRAUTWIRE Clever (780,-/2,5m)
OEHLBACH XXL Fusion Two (580,-/2,5m)
TELOS Black Reference (720,-/3.0m)
VAN DEN HUL The Revolution Hybrid (780,-/3,0m)
One more remark: you cannot make a price/m comparison (by taking the price and dividing it by the cable's length) as there are often significant price differences in terminations that varied from simple gold plated spades to Nextgen type of WBT terminals or rhodium plated connectors.
The market is much more varied than our speaker cable selection may represent. We did not include Cardas, for example, however, we have reviewed George Cardas' cables two years ago already. At specialized dealers one can find other non-expensive makes, like Monster Cable, Viablue, InAkustik, Groneberg, Neotech, Atlas, HGA, Eagle Cable, XLO, Profigold and many more. Apart from these there are wires sold in bulks that open an immense number of possible combinations and termination alternatives.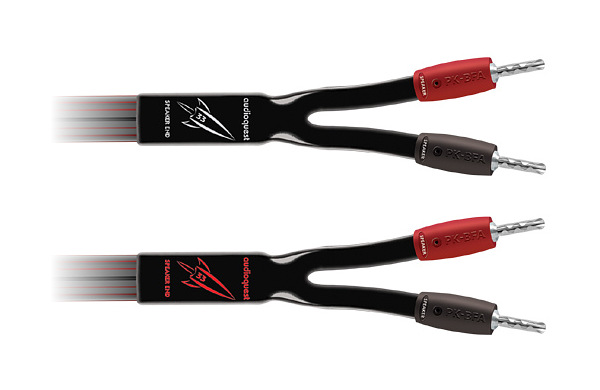 What is the best speaker cable?
Well, an easy question that is difficult to answer. There is no bad approach and every construction, no matter how wild it is, may please someone's ears. Some producers believe in scientific approach, some fly purely on the wings of imagination and black magic, very often with similar results. Therefore it is mandatory to use one's own ears to find the best correlation between performance and personal preferences possible.
In this review, we did not use bi-wiring. I am convinced that bi-wiring may help some speakers and amps, however, it is rather crossover-related than wire-related. The holy grail of cabling is to let a cable disappear from a system. The idea of correcting the sound of your system with a cable is not bad but it also means that you bring something additional to the sound that is not on a recording. Therefore try to get rid of any excessive lengths of a cable and run the shortest signal paths possible – it will also cost less. Should your speakers are placed asymmetrically to your amplifier and you cannot move the amp, you will have to spend extra money to keep both lengths of a cable (left and right speaker) identical to achieve the best result.
Be attentive to how a cable is terminated. Do not use bare wire ends in terminals as they are prone to oxidation. Connection with banana plugs may not be tight enough, if the bananas cannot be locked (via their central pin) or expanded (in a spring fashion) in the terminals. Also the way the connectors are tightened to the wire matters: usually they are soldered which is good enough, sometimes small screws hold them in place. The best way is probably cold high pressure crimping that creates unity at a molecular level – some producers, like Silver Audio for example, can provide you with this service on demand.
Some speaker cables are directional. Therefore it may be beneficial to put amplifiers above speakers so that the electricity can run downhill in the arrow direction.
The internet is cluttered with misleading information. In our reviews, at least 50% of the speaker cables were directional. Can you hear the benefit of directionality? What makes a directional speaker cable directional is the screen or shield that is earthed at the source end. Earthing both ends of the cable can lead to an earth-loop which may induce mains noise. However, such a cable may represent an impedance problem for some less gifted amplifiers. During the tests we tried several times to reverse some of the directional cables and never found a constraint. This may be due to the quality amps and speakers that we used throughout the reviews.
Normally it is not advisable to leave any audio cables coiled on the floor. The safest approach is to cross cables at 90°. If you still need to coil your cables then it is the right time to shorten them.
The less you disturb the traveling signal the better. Do not try to combine many different materials: a silver cable with copper terminations that is attached to rhodium-plated speaker terminals is a very questionable solution. There is a lot of electrical transition happening between different materials that may have a detrimental effect on sound. Rather opt for unified signal path.
Well, now we know that a speaker cable can affect the sound of your system, sometimes significantly. To pay 800 euros for a piece of wire may cause discomfort with some of you but very often the wires are the limiting factor that prevents your system to bloom. Therefore I recommend to fit the best speaker cable you can afford. During our reviews, the listening to entry-level cables was sometimes a trudge – once a listener is adapted to a certain level it is difficult to descend to the basement.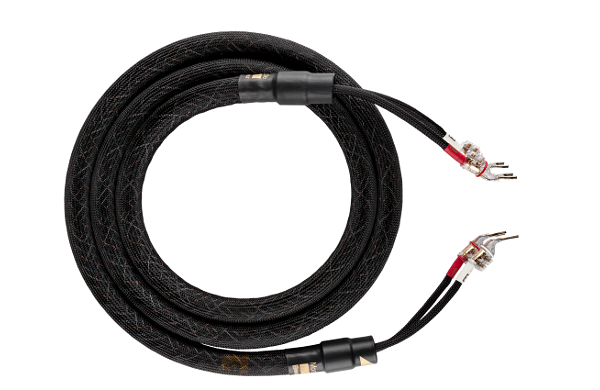 The test methodology
Having the positive experience with last year's group review of power cables Power Up! we decided to go for a very limited number of recordings to facilitate fair comparison between the loudspeaker cables. Stay assured that we listened to many other CDs during the last six months, the critical part of the reviews was realized only with the chosen ones, however. The following recordings qualified:
White Rabbit is the instrumental minipiece that can be found on The George Benson Collection (Warner, 7599-23577-2). White Rabbit is an excellent track that is performed with a healthy dose of spontaneity and energy to the extent it borders a musical improvisation. The piece is instrumentally rich: George Benson and his guitar won reputation in pop music recorded for RCA and Columbia labels, his instrumental jazz numbers are much better however. In White Rabbit Benson is assisted by Herbie Hancock on a piano, Ron Carter on a bass and Billy Cobham and Airto on percussions - the listener will be enthralled by the colorful collage of trumpets, guitars, Hammond organs, clickers and tambourines on top of that. The recording was taken in 70's and as such it features delicately resolved sound that was wonderfully remastered by Mike Reese of The Mastering Lab. Peak -2.66dB, DR12.
Gloucestershire Wassail, as found on Loreena McKennitt's Midwinter Night´s Dream album (Quinlan Road, B0012096-02), is hopefully already well known to Audiodrom's readers. We often use this a cappella piece to check a system's capabilities as far as human voices and soundstaging are concerned. It is a very naturally mixed choir of voices – should there is some imperfection in a system the voices exhibit boxiness, lack bodies, stand in a row or are clumped together, the ambience is missing or there is too much stress on sibilants. A Wassail is an ancient southern English tradition performed to ensure a good crop of cider – the wassail of Loreena certainly does so in abundance. Peak -0.10dB, DR12.
Young Lust is Pink Floyd's The Wall track from 1979 - maybe not so exceptional if it was not remastered by Krieg Wunderlich of Mobile Fidelity Sound Lab fame (MoFi UDCD 2-537 Gold Ultradisc). The track is heavy in bass and requires the good control of lows as well as sufficient resolution not to miss all its details. Peak -3.47dB, DR15.
The last album of Barbra Streisand, Love Is The Only Answer (Sony/Columbia, 88697433542), was produced by Diana Krall. Not only Diana produced it but she also shared her band with Barbra. I see it as a big mistake as Barbra clearly demonstrates her artistic superiority over Ms.Krall. The latter could have defended her jazz queen status if she would not have gone mainstream few years ago. In The Wee Small Hours of The Morning boasts of rich arrangements and excellent sound: a flute, a piano, a double bass, brushed cymbals and foremostly the voice weave this unforgettable and soulful tapestry that is both very emotional and involving. Peak -0.75dB, DR11.
When INXS's Michael Hutchence had been gone the Switch album (Epic, 8287675189 2) was the first that was released with a new singer. It is a strong comeback with wonderful compositions led by almost hymnical Afterglow. Our test track, Devil´s Party, breathes rock energy and drive. Switch is a modern recording so do not expect excellent microdynamics, however, it was carefully mastered by iconic Doug Sax to keep the momentum and strength that can shake a room and speakers'membranes. On a good system you should be able to hear the comprimation of the track as well as all the overlaid parts should be resolved and timberally correct. Peak: clipping, DR8.
Hurt (Johnny Cash, taken from American IV: The Man Comes Around, American 440 063 339-2, mastered by Vlado Meller at Sony Mastering) is the Nine Inch Nails classic from Downwards The Spiral as it was reworked for Johnny Cash's Grammy winning album. The textures and colors of the voice are incredible and if you ever need a torture test for articulation, here it is. Actually, Trent Reznor of NIN made the following comment to the piece: "I pop the video in, and wow... Tears welling, silence, goose-bumps... Wow. I felt like I just lost my girlfriend, because that song isn't mine anymore... It really made me think about how powerful music is as a medium and art form." Peak -8.70dB, DR8.
The visually stunning opening of George Lucas's Star Wars movie starts with a blazingly brilliant fanfare. The score is set in the register of trumpets, horns and trombones, that shine with both romantic and military flare. The version we used was performed by The Hollywood Symphony Orchestra (MEMO INF169) and was digitally recorded. The Arrival At Naboo brings a middle easternish motif with harp glissandos, sparkling triangles and smooth washes of strings, all of this underscoring the tension hanging in the air. Peak -1.84dB, DR12.
Similarly to the music, we had to limit the number of the audio systems we were working with for the simple reason: not all the cables were available at one spot at the same moment so we had to make sure that were listening to them at comparable conditions, room acoustics included. As standard we work with logical groups so that we could audition at least 5-6 cables in a similar price range or with similar sound. Mostly, but not exclusively, we used following components:
SACD/CD players: Primare CD32, Luxman D-05 and Accuphase DP-510
Amplifiers: Primare I32, Luxman L-590AX and Accuphase E-560
Loudspeakers: Audio Physic Virgo V, Dynaudio Confidence C1 a Xavian Giulia, (okrajově Chario Constellation, Xavian Preludio, Revel Ultima Studio2, B&W 805 Diamond and Atohm G T1.0)
Interconnects: Homegrown Audio (HGA) DNA
Speaker cables: Krautwire Fractal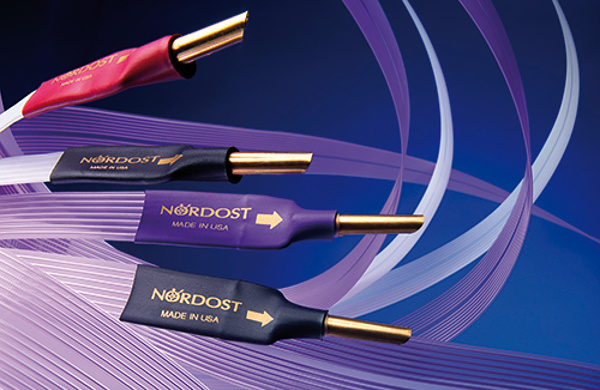 And the winner is...
The sonic attributes of the individual contenders are described in separate reviews, that can be accessed in the appropriate section of our magazine or via the links below.
The good news is that there are no bad cables. Should I name the best performing cables per category, I would probably go for the following (alphabetic order):
Low-tier: Atohm ZEF –– Audioquest Rocket 33 - Rapport YPB621B
I also liked the Nordost Purple Flare (with the typical Nordost speed and cleanliness), the Vincent Premium (with excellent lows) and the Xindak (a bargain at its price).
Mid-tier: Furutech Evolution II – Krautwire Clever – Kimber Kable Monocle X
Here, I would also appreciate the Audioquest CV-4 (for its analog fluidity), the Black Rhodium Emperor DCT++ (for its dynamic drive) and the Van Den Hul The Revolution (for its deep soundstaging and smoothness).
Other accolades would go to:
The most sexy cables: the PROSON P-217A, the VINCENT Single Wire, the OEHLBACH XXL Fusion Two and the TELOS Black Reference.
The most flexible cable: both the NORDOST White Lightning and the NORDOST Purple Flare
The heaviest cable: the TELOS Black Reference.
The surprise of the test: the ATOHM ZEF.
The thickest cable: the KIMBER KABLE Monocle X.
The best overall performer: the FURUTECH Evolution II.
Please click on the respective links herebelow for the individual reviews of each cable in the test:
GROUP < 400 EUR per pair (EUR/set):
ATOHM ZEF (240,-/2,5m)
AUDIOQUEST Rocket 33 (260,-/2,5m)
NORDOST White Lightning (250,-/2,0m)
NORDOST Purple Flare (350,-/2,0m)
PROSON P-217A (150,-/3,0m)
RAPPORT YPB621B (190,-/3,0m)
SHARKWIRE SSC-R Musical No.2 (130,-/2,5m)
VAN DEN HUL The Magnum Hybrid (360,-/3,0m)
VINCENT Single Wire (260,-/3,0m)
XINDAK SC-01 (80,-/2,5m)
GROUP < 800 EUR per pair (EUR/set):
AUDIOQUEST CV-4 (520,-/2,5m)
BLACK RHODIUM Emperor DCT++ (750,-/3.0m)
FURUTECH Evolution II (680,-/2,0m)
KIMBER KABLE Monocle X (790,-/2,1m)
KRAUTWIRE Clever (780,-/2,5m)
OEHLBACH XXL Fusion Two (580,-/2,5m)
TELOS Black Reference (720,-/3.0m)
VAN DEN HUL The Revolution Hybrid (780,-/3,0m)
It is not possible to test objectively all possible cable combinations and map their interactions with different audio gear. Therefore let yourself be inspired by our reviews and use your own ears to evaluate what a cable does in your system.
I would like to sincerely thank the following dealers and distributors for their patience with our project:
Nisel SK, Eurostar Ostrava, Gaia Connections, HiFi Studio Melissa, Superhifi, Horizon Trading Prague, Telos Audio, Vlk Electronic, High-End Studio and Krautwire, Hifi Store, Absolute Audio.