Mark Levinson No.519
In 90's dustbins were full of discarded vinyl records, ten years later we have seen the end of tapes, and after another decade had passed huge collections of CDs were ripped into MP3s and stored in iPods. These days see the return of the vinyl and tape, yet the CDs keep being discarded in favor of subscription to music libraries in an endless hunt for ´higher´ resolution. Who cares that your DSD or 24bit/192kHz files were upsampled from often lossy formats, it is business, isn´t it?
These days virtually everyone can build a capable DAC or a streaming device and I therefore keep wondering – why then there are so few that sound really good? Not only does the Mark Levinson № 519 sound good, to me it ranks among the finest digital sources available today.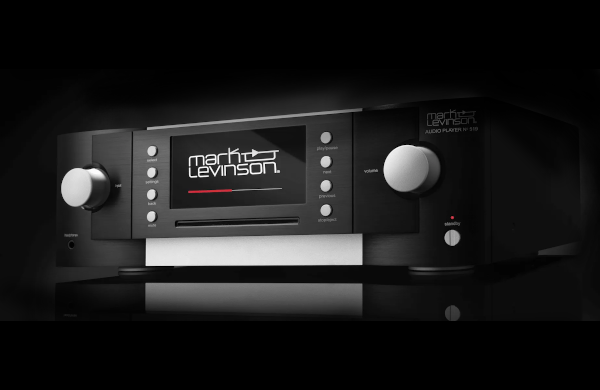 A Digital Superhero
I always had an affinity to Mark Levinson aesthetics except their sources that were somewhat too industrial, cluttered with buttons and unergonomic to me. This has changed with the № 519. The Mark Levinson № 519 player exudes dignity, authority and sovereignty. It is a business class player taht is built to last forever and that's why its price comes with it. Although it is handcrafted in the U.S. the fit and finish is impeccable. Harman have redesigned their products not a long time ago and the new aluminum housing with black and silver trim looks gorgeous. If you compare it to the 18th century appearance of D'Agostino electronics or rather clumsy and unfinished designs of Pass Labs then the aesthetics of the Levinson are fresh, modern and clean. Dtto for the № 519's remote control that fits in hand like a pebble from a river with a perfectly balanced center of gravity, and is superintuitive.
As a flagship digital source the № 519 is a showcase of technologies, with one exception: though its DAC does support DSD, its transport does not support SACDs. It is a pity, especially considering that the new Mark Levinson № 5101 can play SACD discs. But this is nitpicking for the № 519 in the CD mode outshines most high-end SACD spinners.
This is what Harman says about the player:
The Mark Levinson № 519 is a complete, modern digital audio player for today's music lover. It combines wireless and wired streaming with a slot-loading CD player, plus connections for USB drives, additional digital inputs, wireless Bluetooth® aptX®, and HARMAN Clari-Fi® music restoration technology; all in an uncompromising package featuring Mark Levinson Pure Path system design in a 6000-series aluminum chassis. The № 519 sports a large, full-color TFT display, comes with a matching remote control and can be controlled with iOS and Android apps. Apart from the built-in Spotify Connect, Qobuz, Deezer and Rhapsody/Napster, the Nº 519 also enables playback and authentication of MQA audio files and streams from Tidal or Roon, and plays from a USB drive, or via DLNA.
The Mark Levinson № 519 – in a typical Mark Levinson's fashion – was conceived with the goal to achieve the best possible measurable performance and the best listening experience at the same time. The player employs Pure Path design (fully balanced, discrete, dual-monaural signal path, with a combination of JFETs and bipolar transistors), built around embedded Precision Stream Linux computer running a custom Mark Levinson version of the operating system
The 32-bit converter chip in the Mark Levinson № 519's Precision Link DAC comes from ESS Technologies. The Precision Link DAC operates the converter's outputs in current mode, where they are fed into a fully balanced current-to-voltage (I/V) converter. Maintaining near-zero voltage keeps the current sources virtually immune to nonlinearity, maximizing bandwidth and minimizing distortion. The power supply configuration for the Precison Link DAC alone includes five independent power supplies that operate the converter chip alone, and individual linear power supplies for the left and right channels to power the discrete I/V and antialiasing filter circuits.
The Precision Link DAC decodes digital files up to 32bit/192kHz from PCM and double-speed DSD 128. There are three selectable digital filter options, the Fast, Slow and Minimum Phase. They differ by how fast the high frequencies are rolling-off and how pre/post ringing of transients is reduced. For USB input there is also a selectable roll-off frequency for DSD to reduce ultrasonic noise, configurable as 47, 50, 60, or 70kHz.
The № 519's digital inputs include asynchronous USB-B and two USB-As (with support for up to 8TB hard drives), AES/EBU balanced, 2x Toslink optical, 2x S/PDIF coaxial, Ethernet LAN, WiFi and Bluetooth. Its digital outputs provide AES/EBU, Toslink and S/PDIF. Although there are XLR and RCA analog outputs (a pair of each), there are no analog inputs, which is a pity as the № 519's features volume control and can act as a fully equipped digital preamplifier. This way the player can directly drive power amplifiers or active loudspeakers, but if you have an analog source then you'll need a preamplifier. The good news is that the № 519 is complete with an excellent headphone preamp that operates in class A and supports headphones up to 32 ohms.
Finally, if you wish you can activate Harman's Clari-Fi routine that analyzes compressed audio signal during playback and tries to reconstruct it. The intensity of the Clari-Fi can be controlled via the Mark Levinson № 519 menu, which also allows to configure many other parameters like volume settings, power management functions, display parameters, input sensitivities, and network connections. Unless you are a complete technical analphabet to set the № 519 and immerse into music is a matter of minutes rather than hours.
I believe that there is a lot of value in the Mark Levinson № 519 as any new advancements in digital technologies and software improvements just require that the player is ´online´. Harman will send directly an update to its Linux core and your device is as fresh as the one manufactured today.
Effervescent rainbow waters
An ultra short summary would read something like very delicate and detailed, clean and luminous presentation, and outstanding soundstaging capabilities.
Even prehistoric recordings like Bee Gees' New York Mining Disaster 1941 (Polygram) sounded as fresh as recorded this morning. I could hear deep into how the song was mixed and how the sound engineer panned individual tracks. Mark Levinson № 519 stunned me with how resolving it was in front-to-back perspective - the guitar on the left was closer to me, off-center, and completelty dettached from the speaker with almost scary presence in the room. The cello on the right was placed on a diagonal from the guitar, behind the right speaker, and vocal harmonies were locked in an undefined space in the middle. The voices appeared coming from a single spot almost as if they were correlated to mono, but they were so wonderfully discernible from each other that I put the track on repeat and indulged what I heard.
Thank You is a #2 track of Chris Jones' Roadhouses & Automobiles (Stockfisch) and the № 519 portrayed the strings with visceral delicacy as if the sound was embroidered from zillions of tiny details and the listening was like bathing in effervescent and sparkling waters. But the player was far of showing off - in fact it was extremely understated in its delivery of sound. Give me 10 minutes of auditioning to evaluate the Mark Levinson № 519's performance and I would wave it off. Listen to it for several days and you are likely to find any return impossible, the player weaved a cobweb around my ears without me noticing it. So a week later when I disconnected it it was like an end of holidays, end of endless swimming in those effervescent rainbow waters.
THE grip
The grip of the Mark Levinson № 519 on the lows is amazing. During regular playback the terrific lows remain unnoticed - as I said the player is very understated. It may be due to its extremely relaxed midrange that does not push on ears, but when music asks for a push, like in No Sanctuary, the № 519 starts sending seismic waves across the room and the deep and resonating bass leaves you frightened in your armchair. The thing is that the Mark Levinson can really play a deep bass note, unlike some competitors that substitute the deep bass competency by a hotter lower midrange. I could also hear quite a difference between the № 519 and my resident Accuphase DP-720. The latter provided a hint of ripe fruitiness and analog seduction, while the former was more on the dry side, like a top studio gear, with massive amounts of effortlessness and unforced resolution.
The filters
There is no special button for switching between the Mark Levinson № 519 DAC's digital filters. To do so one needs to use the remote and enter into the appropriate menu layer, but it can be done on the fly so the comparison is easy. The differences are rather subtle, much subtler than with the Rockna Wavelight DAC which I had on the hand during this reviews and which offers the very same filtering algorithms. I could only detect very small shifts in how - for example - the decays were handled. The Sharp filter delivered the least accomplished reverbs, and I kept the Minimum Phase filter engaged for most of my listening sessions as it consistently provided the best balance for my ears.
The duet of Alison Krauss with John Waite in a re-recording of Waite´s hit Missing You kicks off with fierce drumming. The drumming was a bit less punchy than I am used to through my Accuphase and it had slightly rounded transients but the № 519 trumped the Accuphase with the bass control – the bass guitar was simply tighter and more resolved at the same time. The Mark Levinson was also easier on ears in the song´s refrain where the other player pushed maybe too much.
This lead me to trying some less digestible music program, like Pestilence´s Obsideo album, compressed and ripped at 328kbps to an mp3 file, and fed through the USB input to the № 519. The album starts with deep kraftwerkian electronic pulses that had incredible energy and focus through the № 519. The "breathing" sounds that follow had almost omnipolar quality, as if I was listening to surround set up, rather than an ordinary stereo set. Then the metal mayhem comes and the compressed sound is not nice, neither through the Mark Levinson. Yet the player manages somehow make the recording less brittle and edgy and I could listen to it longer without too much fatigue.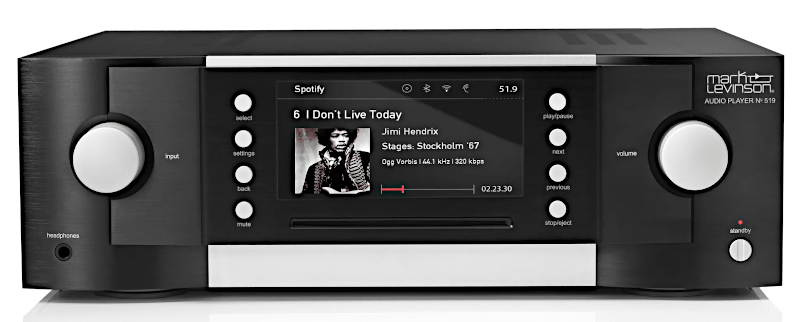 The Clari-Fi
The very same track was a great adept for testing the Harman's Clari-Fi in action. With the Clari-Fi engaged (and set to the maximum restoration power in the № 519's menu) the sound indeed became juicier and fuller, as if it was gently equalized. It was not unlike when I activate "Rock" mode in my Canton car stereo. The music became mightier, the treble rolled-off sooner, and the sound was chunkier and fatter. Though the Clari-Fi did not let me hear more and quite understandably so, when I disengaged it I was thrown back into somewhat disoriented and definitely less accomplished sound. So think about the Clari-Fi as a ' humanizer' of digital nastiness.
Spellbound
To test the DAC in the № 519 I also routed the digital signal from the Accuphase's transport to S/PDIF input of the Mark Levinson via Krautwire Numeric digital interconnect.
As expected the sound was more solid than with the № 519's own transport, yet I started to miss the luminosity that I liked so much when using the Levinson's slot drive. The sonic pictures were now vivid and clearly contoured, the bass had good punch but less overall weight than with the № 519's drive, but I also noted that the performers and their instruments less communicated to each other, as if they were recorded one by one in a complete isolation (tested with Romeo and Juliet excerpts from Erich Leinsdorf's sessions for Sheffield Lab).
The Mark Levinson № 519 had terrific soundstage, immersive and spacious. It is wide and deep, with a distant portrayal. Unlike most players that I had at home the № 519 did not offer a front row perspective, rather it moved me twenty rows back into the auditorium. Though initially I felt quite distant from the performance, when switching back to my front-end I felt maybe too close to the performance. Here again I was a victim of the Mark Levinson № 519's understated delivery – it is quite ordinary at first listen but when you have to readapt back to something else you find it difficult and you want the № 519's spell to be back.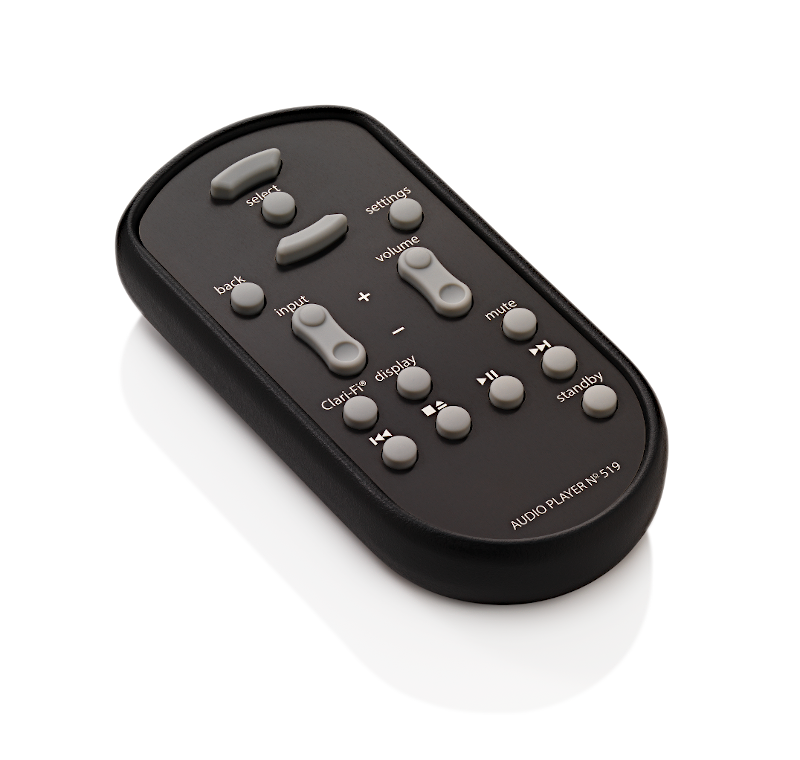 I have no reservations about how the Mark Levinson № 519 sounds and looks – it's easily one of the best digital players at any price - yet I have two minor complaints. The TFT display is great but for the money paid it would be nice to have an OLED for better blacks and better contrasts, perhaps even with a friendly touchscreen. Second, the CD slot drive would deserve some more attention as its operation is far from smooth and noise-free. Other than that the Mark Levinson № 519 is a killer.
Price at the time of review: 590 000 Kč
Kontakt: Absolute Audio s.r.o., Praha, tel. +420 777 739 377