STEREOPHILE TEST CD 3
Label: Stereophile
Nr. STPH 006-2
Producer: John Atkinson
Mastering: Digital Brothers, Costa Mesa, CA
Edited on Sonic Solution Sonic System
This is an essential test CD. Apart from carefully selected music tracks the CD helps you to check the listening environment, proves you that different miking techniques yield different results or provides you with an ultimate burn-in track.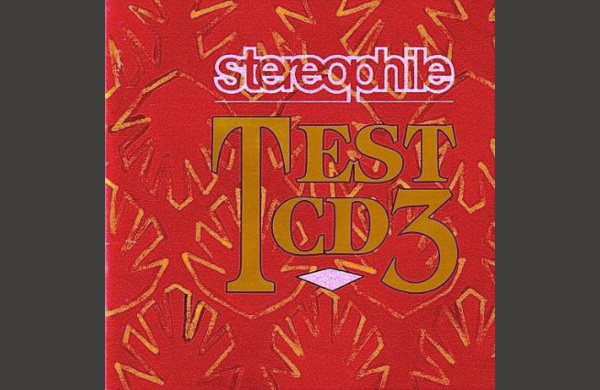 Recommended listening
The track [3] was processed through 'Spatializer' that enlarges the soundstage in stereo playback and recreates 'you are there' presence in multichannel. Though it is a studio recording the hovering and ethereal trumpet gives you the feeling that it was recorded in a cathedral. Tonnally dissonant and percussive structure is very demanding on the reproduction.
The track [4] is among the most used test tracks of Audiodrom. The natural ambience, bass warmth, precisely defined wooden sticks on cymbals and crystal clear Hyman's Baldwin piano plus unamplified guitar of Bucky Pizzarelli are the real highlight of Reference Recordings's catalogue.
The track [8] was produced for Bowers & Wilkins (B&W Music). The Herbie Hancock's piano is closely miked 'almost as if you were peering over the pianost's shoulder'. The Stanley Clark's double bass is also recorded close with a great attack and weight, a good reference for bass performance of your audio system.
The tracks [16] to [19] are good for easy and fast checking of your room's acoustic. The chromatic scale helps you identify resonant modes of the room (or the system) between 32.7Hz and 4186Hz; the bass, midrange and treble decades map individual frequencies from 20Hz to 20kHz.
The track [15] is a binaurally recorded DAT of passing F1 monoposts of Grand Prix Montréal in 1992 (two Sony ECM-150 omnidirectional electrets, Aiwa DAT recorder. You hear the racing cars braking hard from 200mph in 6th gear to just 40mph in second, following by full throttle acceleration to maximum speed .
Tracklist:
[1] Home Theater & Stereo Channel Identification 2:05
(Left, Right, Center, Subwoofer, Surround)
[2] Stereo Channel Phasing 0:34
(Stereo channels in-phase, out-of-phase)
[3] Empire Brass Quintet: "Sibley Sanctus Lydian" 3:59
(from Passage 138 B.C.- A.D.1611, Telarc CD-80355, Surround-encoded)
[4] Dick Hyman: "Topsy" (HDCD-encoded) 6:11
(from From the Age of Swing, Reference Recordings RR-59CD)
[5] Sara K.: "History Repeats Itself" 5:54
(from Play on Words, Chesky Records JD105)
[6] Jimmy Rogers: "Blue Bird" 4:44
(from Blue Bird, Analogue Productions (APO 2001)
[7] Doug MacLeod: "Rollin' & Tumblin'" 3:10
(from Come to Find, AudioQuest Music AQ-CD1027)
[8] Airto Moreira and the Gods of Jazz: "Nevermind" 7:43
(from Killer Bees, B&W Music BW041)
[9] Dean Peer: "Lord's Tundra" 3:38
(from Ucross, Redstone RR91012)
[10] Soundstage Maps & Microphone Techniques 6:08
(2 omnis, 3 omnis, ORTF cardioids, "shuffled" ORTF cardioids, Schoeps SFM6)
[11] Robert Whyte: "Christe qui lux es et dies" (excerpt) 1:56
(miking examples)
[12] Robert Whyte: "Christe qui lux es et dies" 4:56
(Performed by Halcyon, complete performance)
[13] Frederic Chopin: Waltz in c-sharp, Op.64 No.2 4:20
(Performed by Robert Silverman, from Concert, Stereophile STPH005-2)
[14] Frederic Chopin: Waltz in c-sharp, Op.64 No.2 4:20
(Truncated to 15 bits; encoded via PASC, encoded via DTS Zeta)
[15] 1992 Montreal Formula One Grand Prix 2:51
(Recorded binaurally)
Signals for testing loudspeakers and rooms:
[16] Chromatic scale (left channel, then right channel) 1:38
[17] Bass Decade 1/3-octave warble tones at -20dBFS 2:47
[18] Midrange Decade 1/3-octave warble tones at -20dBFS 2:32
[19] Treble Decade 1/3-octave warble tones at -20dBFS 2:32
[20] Stereophile's Special Burn-In Noise 2:15
Signals for testing electronic components, amplifiers,& CD players:
[21] Home Theater reference & demagnetizing tone 0:24
(1kHz at -20dBFS, decaying to silence)
[22] 1kHz Squarewave at -12dBFS 0:15
[23] Multi-tone signal, octave spacing 0:15
[24] Multi-tone signal, 1kHz spacing 0:15
[25] Multi-tone signal, 500Hz spacing 0:15
[26] Multi-tone signal, 500Hz spacing with gaps 0:15
[27] 1kHz sinewave (dithered) at -90.31dBFS 0:20