Audiophile THRASH Metal Albums
The last two years. The pandemic, lockdowns, no live shows. Slayer is retired, new albums from Anthrax and Megadeth postponed, Metallica recycling itself. No good material from other big names on the horizon. Fortunately, the metal scene that has more loyal fans than any other genre of music does not stop. Thrash bands out there churn out one album after another, and although the quality of content is often less than satisfactory, there are some diamonds waiting to be uncovered. Let me look at 4 albums that were released during pandemics by mostly unknown bands, and that not only do feature exceptional music material but also exceptional sound quality for the genre.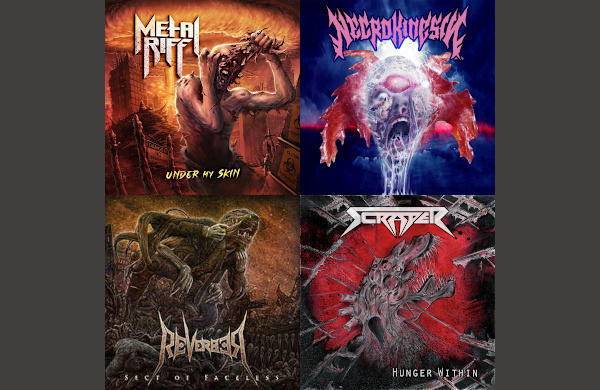 Metal Riff: Under My Skin
2020, Australis Records, DR7
Produced by: Metal Riff and Gonzalo Cordovez
Recorded and mastered at: Cordovez Productions Studio, Chile
Metal Riff's Under My Skin is the best Metallica album that Metallica has never recorded. The first two songs, Blood and War and Under My Skin, are generic thrash metal numbers that can be found on any retro-thrash album, yet the title song has some good-old-Metallica vibe, especially with the guitar tone that as if was taken from their Ride The Lightning era. But the real hell breaks loose from the song #3 onwards, that is for the rest of the album. Metal Riff seamlessly blends Ride the Lightning with …And Justice for All and Master of Puppets, yet it manages to keep their own identity and never sounds like a clone. Each song stands out, each is memorable and sticks to your mind. This is a music that one would take for a long car drive for there is no problem to put the album on continuous repeat for several hours or even days – the material is so well structured and varied that you never feel bored, quite opposite, with each additional listen you notice new things and musical details. There are places I would swear I am listening to Hetfield's guitar and vocals, or to a Hammet's solo, which adds an extra excitement.
The sound is terrific throughout the album. First of all, there is fantastic bass playing; the bass is perfectly audible and often is a highlight, like in the title track or The Emptiness where the bass creates melodic backbone of the song, or in the amazing instrumental From The Ashes. Although generous compression was applied it serves its purpose and makes the guitars crunchier and drums more pounding (except maybe kickdrum weight where I would like to hear more punch). The changes in tempo and song structures prevent the compression be monolithic and it remains unnoticed. Also, for a thrash metal record, there is a lot of 'air' in it, every single instrument has its space and can be followed on its own, but the whole remains cohesive and heavy.
If Under My Skin was recorded by Metallica in 2020 instead commercial and useless S&M2, it would have been fantastic comeback for them and the album of the year. Metal Riff is from Chile and is mostly unknown to thrash metal fans. Support them, they deserve it.
Scraper: Hunger Within
2019, not on label, DR5
Recorded and mixed at: C. Rambadt, Rambado Records
Mastered by: Dennis Koehne
Scraper hails from Germany and offers great riffs, heavy grooves, and technically accomplished thrash assault. Although their approach is formulaic and riffing sparks memories of Kreator and Slayer at the peak of their careers, each song retains a lot of unexpected twists and tons of its own individuality, each is enough 'Scraperized' and distinct. This is what makes the album very fresh – listen for instance to King of Nightmares which contains in just one song enough material and motifs to write a full-length album around, or Hordes of Violence that bests anything Kreator has outputted in the last 10 years.
I would like to hear more dynamic headroom in the sound since the album is squashed to death with compression. It also makes drumming less powerful than it is and takes out some bass energy. Other than that, the production is nearly flawless and the mix is skillfully done and clear and retains both thick heaviness and thrashy crunchiness. It is one of those few rare modern metal albums that sound equally good through ear-buds as well as through full-range high-end speakers. Hunger Within is a debut album and cannot wait to hear the successor (if there will be one). I am really happy that I have discovered this hidden gem and would like to thank to Simon (Scraper's bassist) who provided me with a CD version.
Reverber: Sect of Faceless
2020, Punishment 18 Records, DR7
Recorded, mixed and mastered at: Stefano Morabito, 16th Cellar Studios, Italy
Reverber is a quartet from Rome, Italy, and Sect of Faceless is their 3rd full-length. Jack Merry of Metal-Rules.com wrote the following in his review (https://www.metal-rules.com/2020/07/01/reverber-sect-of-faceless/):
"Comprised of nine brand new original tracks and an inspired, blistering cover of Angel Witch by the band of the same name, Reverber's new album Sect of Faceless is an air guitarist's wet dream. Volatile razor-sharp riffs meld with incendiary and technically impressive solos that defy all sense of logic and gravity as they shift from soaring highs to hellish lows in the blink of an eye across the entire album.
The album wastes no time in setting the tone, as Gods of Illusion roars out of the starting gate at a relentless pace. Cavernous drums courtesy of Alessio Stazi propel the song into oblivion as vocalist Marco Mitraja warns of the danger of worshipping fake idols and false prophecies. It's during the second half of the track that my favourite moment of the entire record happens, as stratospheric Maiden-esque lead work soars effortlessly above a dynamic eruptive riff, and it's perfect. It ticks all my boxes for a great thrash track, and that's just the opening song.
Fans of Annihilator, Exodus, Kreator, and Testament will adore Sect of Faceless, as it's a fantastic no-nonsense balls-to-the-wall thrash metal record that's fit to burst with world-shaking guitars, pummeling drums, soaring vocals with just the right amount of grit and thundering bass guitars […]. If you love thrash metal, you'll love this. Reverber has crafted an album that is both technically and musically very impressive, and it will surely go down as one of the finest thrash metal albums 2020 has to offer."
Although the sound is a bit thin in the midrange, still it is vastly superior to heavy metal standards. Grittiness and clarity often mean listening fatigue, but on Sect of Faceless the presence range is turned down skillfully while the mix maintains wonderful transparency. No matter how intense and relentless the band playing is it is possible to listen to these 10 tracks in the row without bleeding ears and urge to hit the STOP button. The #6 track's intro, Wood of Suicides, not only provides acoustic equivalent of Metallica's The Unforgiven, but it also reminds me of terrific sonic attributes of the Black Album, that contributed to its huge success. The only difference is that Reverber is much heavier.
Necrokinesis: Necrokinesis
2020, not on label, DR8
Produced, mixed and mastered by: Michael Richards at Trackmix Recording Studio, Dublin, Ireland.
As a proper underground record, the Necrokinesis' debut was released on compact cassette (!) in two versions, cyan cassette and magenta cassette (!!!), not unlike coloured vinyl versions. It is not available on vinyl nor on CD but is available for streaming and download. Unless you are a hardcore thrash metal fan like me, you have no chance to stumble upon this band. I like that I did because the Necrokinesis album is easily among the best thrash albums released in the decade.
Well, Necrokinesis is not a band, rather a one-man project and album from former Stereo Nasty guitarist, Adrian Foley who "pretty much handles all instruments and vocals" according to Irish Metal Archive. Yes, this is a 100% Irish accomplishment.
There are many things to be liked about Necrokinesis. The songwriting is simple and effective, a thrash metal riff-fest. Each song is distinct and can be a hit on its own. The guitar tone is thick, full, and abrasive, an ear candy. The songs use the structure of old school death metal – they are all mid-tempo affairs, with insane kick-drumming, and sinister feel. The sound is powerful, big, grinding, and exquisitely balanced; I will have to check Michael Richards/Trackmix credits for the Necrokinesis' album is a prime example of truly outstanding mixing and mastering job. This album proves the metal sound can be legible and yet ultra-heavy, detailed and open yet not etched and shrilly, spacious with wide stereo base yet sounding like a live-in-studio recording. An exquisite thrash-fest, highly recommended.