The Soul of Analog is Back
Label: ABC (Int'l) Records
The Chinese ABC is a diverse group of associates around audiophiles, recording engineers, tape technicians and musicians that pursues the ultimate analog playback goal: the studio tape quality.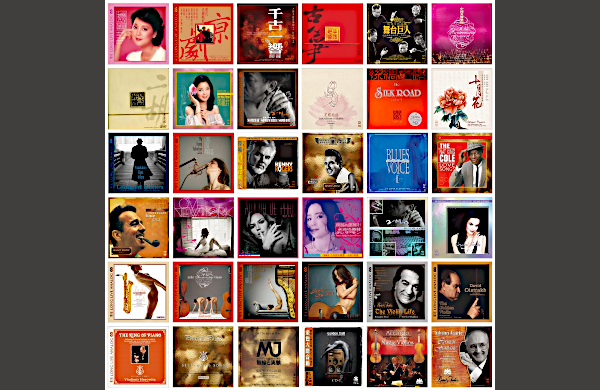 There are several formats available from ABC:
1:1 copies of master tapes
These are made on a Studer A80 VU deck and recorded in real time at 15ips in two tracks on ¼" tape. ABC assumes that the master tape provides more natural, more dimensional, deeper and far more realistic sound that has more ambience and detail than any LP or a digital format. However, record labels what record labels claim to be "master tapes" are usually 2nd to 5th generation of original recordings, which is inevitable as many of them were made in multitrack or with numerous overdubs. With each generation a bit of loss is introduced no matter what you do. The closer one can get to the original two-track tape – if it exists at all – the closer it is to the performers in the studio. And this is basically what ABC does, using their unparalleled experience in revitalizing original studio equipment. I really recommend to check the following links to get a flavour of their techniques – though the site is mostly in Chinese there are tons of mouthwatering pictures from recording sessions.
1/4" Analogue Studio Master Tape
Almost Analogue Digital AAD master CDs
The principle of these digital recordings is equivalent to the master tape copies: ABC uses direct burning process from the tape to 24-K Gold CD-R (sourced from an American archival specialist Quantegy that guarantees over 300 years of the media longevity), using the Studer A80 VU on the analog side and an HHB CDR-850 PRO or a Studer D741 burner on the digital side. It is done at real speed, one CD-R at a time, and ABC claims that the final digital master has 20% less losses than any stamped CD disc. The care goes that far that no label is stamped or glued on the discs to avoid any resonances.
Vinyl records, CDs and SACDs
ABC boasts of about 50 titles that were recorded/mastered by its associates, plus many big names in music industry support their initiative by providing titles from their catalogues. Thus some highlights from Sony, Warner, Universal, Deutsche Grammophon and others are available. The fact that the tapes, discs and records from ABC are HD mastered and superbly sounding have attracted high end audio manufacturers so the catalogue of ABC Records also includes quite a number of audio samplers. Personally I also like their Vacuum Tube Sound series that are recordings remastered exclusively on tube equipment.
I had discovered ABC Records through the Usher Audio Be There sampler and was amazed how great it was sounding. Following this experience I ordered around 20 CD/SACD discs from the ABC's online store from Hong Kong. Only later I've found that the label is distributed in CZ by Horizon Trading Prague which may be a much easier way of getting their products. Let me use some examples from the Be There to give you an idea what to expect. The only problem is that the tracks' names are in Mandarin so it is quite difficult to decipher the performers.
So Nice ushers the world of ABC with embracing tube sound which is radiant and punchy. It features a vocal that hangs in the air close to the listener and is sweet, articulated and free of edgy sibilants. A slight roll-off on treble helps creating the analog aura so the saxophone has a physical presence in the room which is further enhanced by small details like that of the air flowing through the mouthpiece. Also Till The Rivers All Run Dry has wonderful round bass sound, relaxed and deep vocal and swinging rhythm guitars.
Boureé is a perfect test for vertical imaging. There are dynamic percussions, a violin, two pianos, and a tabla, all spaced in the context of the wide and deep soundstage continuum, here presented with finely dosed vertical resolution that puts the instruments into right perspective from the listener´s point of view.
Don Juan can be an example of how important it is to achieve the right tonal balance for a track during mastering. Every single instrument here is a showpiece, including beautifully analog drum kit, a three-dimensional acoustic guitar, or dry yet highly dynamic washboard sound. Be the mix lower in pitch it would end up muffled, be it more sparkling it would be end up brittle and thin. A masterpiece.
The Moon Reflected in The Second Spring is an erhu concert suite. The erhu is a Chinese folk instrument, a kind of a two-stringed bowed violin, and it exhibits very fine microdynamic gradations in this recording. The instrument really sings and you can both feel and see how the bow rides over its tight strings.
My Heart and I. Imagine an ultra-close miking technique when a microphone capsule is almost in the singer's mouth. Then apply a bit of compression and here you are – the vocal hangs in the air in front of you as a perfect phantom image. It is scary real and with the lights switched off I would swear that the vocalist is in the room.
Take a big, really big drum and hit it in your room. This is what I call a powerful dynamic transient and this is what is recorded on Soul of Great. This track checks the bass and lower midrange competences of your system, as well as colours and aliquots as soon as jingles and rattles join the drum. The soundstage is spacious and have a see through quality.s
The disc closes with the unbelievable version of French De la Main Gauche that is misspelled as De Main Ganche in the CD's booklet. I have heard this piece a hundred times through dozens of audio set-ups and it can be mesmerizing, smooth, electrifying, fiery, laid-back, shrilly and anything else. It is a window to your system so make sure that this one plays great because then your system is great too. A track par excellence.
Kontakt: Horizon Trading Prague