HELL OR HIGH WATER
Label: Milan, 399 862-2
Producer: Nick Cave & Warren Ellis
Mastering: Rob Kleiner, DR7-10
Recorded at Retreat, Brighton, UK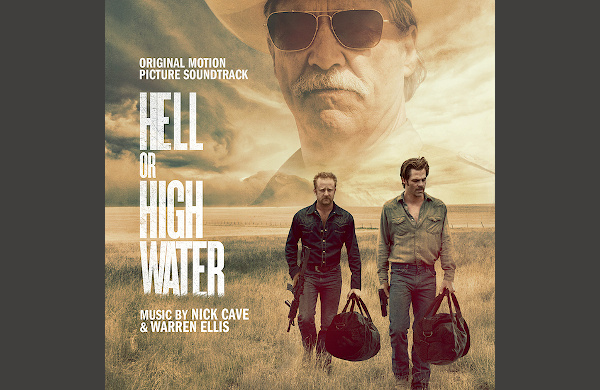 "Hell or High Water" is an American movie that follows two brothers who plan a bank robbery to save their family farm. It is a modern homage to classic westerns, full of drama, barren landscapes, and suppressed emotions. Nick Cave and Warren Ellis use their trademark composing skills and present long and heavy chords, machines blended with acoustic instruments, warm fuzziness and a healthy dose of discomfort. In Hell or High Water, however, the rather depressive tunes are spiced up by several tracks taken from other Americana and country albums, some of them being the highlight of the soundtrack.
Dust of the Chase (Ray Wylie Hubbard) opens a fantastic ambience that is dominated by two acoustic guitars. The mix is beautifully dynamic and clean, with a voice nailed right in the center. If the voice exhibits spatial fuzziness or splashes to sides at certain frequencies then look for a problem in uneven absorption/diffusion of the side walls in your room. Although the vocal is the focal point the piece should recreate a deep and wide soundstage with an easily locatable harmonica, electric guitar and drums within it. The fairly deep bass should keep crisp outlines no matter how loud you play the track and the whole - deceptively simple - instrumentation should stay organized and resolved without making a wall of illegible sound.
Colter Wall and his Sleeping on The Blacktop features a masterfully miked guitar that is sweet, full-bodied, punchy and warm, one of the best ever recorded. If your equipment has low a level of noise then you should be able to hear how the track was mixed, which instruments were present on which tracks and whether they originated from a microphone or an electronic chips box.
The "soundtrack" part of the soundtrack relies heavily on keyboards and synths that generate tones down below 30Hz to build dense desolated atmosphere, only now and then lit up by violins or cellos. The production of the album is transparent, yet the capability of reproducing the very low bottom end is needed if you want to hear what the tracks like Robbery or From My Cold Dead Hands are really about.
Hell or High Water is an excellent soundtrack to not less excellent movie, and it is a great value audiophile album too. As such it is ideal for testing the competence of your system, from top to bottom.
Tracklist:
Nick Cave and Warren Ellis - Comancheria
Townes Van Zandt - Dollar Bill Blues
Nick Cave and Warren Ellis - Mama's Room
Ray Wylie Hubbard - Dust of the Chase
Nick Cave and Warren Ellis - Texas Midlands
Nick Cave and Warren Ellis - Robbery
Waylon Jennings - You Ask Me To
Nick Cave and Warren Ellis - Mountain Lion Mean
Colter Wall - Sleeping on the Backtop
Nick Cave and Warren Ellis - From My Cold Dead Hands
Nick Cave and Warren Ellis - Lord of the Plains
Scott H. Biram - Blood, Sweat and Murder
Nick Cave and Warren Ellis - Casino
Nick Cave and Warren Ellis - Comancheria II
Chris Stapleton - Outlaw State of Mind