Ivan Moravec: CHOPIN NOCTURNES
Label: Supraphon
SU 4097-2
Produced by: E. Alan Silver, published May 2012, licensed from Nonesuch.
Mastering: Jan Lžičař
Recorded April 1965, St Paul's Chapel, Columbia University, New York and November 1965, Mozartsaal of the Konzerthaus, Vienna
Ivan Moravec - piano (Steinway, Bösendorfer)
When I listened to Moravec's Nocturnes for the first time (and again and again) I wanted to write something original about this recording. After reading Supraphon's liner notes I found that Pavel Ryjáček who had written them wonderfully captured the essence of this masterpiece.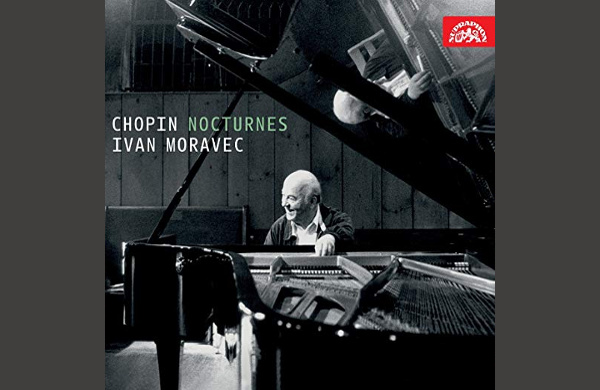 "One of the first recordings that earned Ivan Moravec acclaim and secured him a position among the finest pianists of the 20th century […]. Ivan Moravec presents the Nocturnes in an admirable scale of colours and dynamics (down to astonishingly tender, barely touched tones), with the music flowing so naturally that it seems as though there are no bars or individual notes. Supraphon is re-releasing this legendary recording with a sensitively remastered sound, which brings out to the full the wealth of tone colours of Moravec's piano. "
The recorded sound here is a showcase of piano colours and dynamics. The sensitive and dreamlike Moravec's playing is far from being forgiving to lesser audio systems. The subtle dynamic shading and fine tonal shifts are extremely demanding for all but the best resolving systems; strings often feel like being "pushed" by hammers rather than hit. Everything may seem tranquil and reflective, like one reviewer from Amazon writes "as if he is sitting all by himself in a room, lost in reverie, forgetful of everything around him, forgetful of the audience, lost in the beauty of the music - and putting everything, his whole heart and soul, into every note, every trill, every run." Then Nocturne No.4, Op.15 and Nocturne No.7, Op.27 arrive and the grand Steinway exhibits such explosive dynamics that I quickly reached for volume control to turn the music down.
Though the recording is not absolute it comes pretty close. You can hear a bit of hard edges to the piano here and there and the stereo base is wider and the closely-miked piano oversized in the room, for example. However, the grandeur of the performance and naturally captured sound makes this collection one of the best piano showpieces ever put on a tape. The 2012 digital remaster (Jan Lžičař) succeeded in removing noise and hiss and preserving splendid richness and tonality – bravo Supraphon!
Let me conclude with Ivan Moravec recollecting the recording session with E. Alan Silver: "Mr. Silver nearly drove me crazy in Vienna looking for the right place to put the piano, for an hour or so. He jast kept walking around the hall and clapping his hands, trying to detect where the sound would be the best [with the longest decay]. He ultimately put the piano in the most incredible corner and had me listen to how it sounded. And I had to agree with him. Today, I still marvel at the length of the tone. […] When later on the analogue recording was digitally remastered, the sound engineers were astonished how splendidly it was recorded."
Tracklist:
Fryderyk Chopin - Nocturnes Op. 9, 15, 27, 32, 37, 48, 55, 62 and 72